Page 1 of 2:
European Larch bonsai (Larix decidua) before work started.
I was commissioned to refine this European Larch bonsai (Larix decidua) during January 2016 by a client. Over 70cm in height, the tree had been initially carved and styled by UK artist Kevin Wilson, from collected material/yamadori. Since that previous styling, the tree had lost a few branches that had died-back, had become a little overgrown and required refinement.
My work would include removing or jinning the now-dead branches, 100% wiring and pruning of the live branches so they could be laid-out precisely. I would refine the original carving work on the deadwood, and finish it with lime-sulphur.

Detail of the European Larch bonsai (Larix decidua).
The original carving was excellent and a shari, the length of the trunk, had been created to conceal and connect a large scar at the base of the trunk and a trunk-chop scar two thirds of the way up the tree.
After carving the Larch deadwood.
I worked over the deadwood. Small Dremel grinding-discs were used to add very thin lines along the grain, adding texture and grain to further accentuate the shari. (Note I have already begun to wire and position the branches in these images).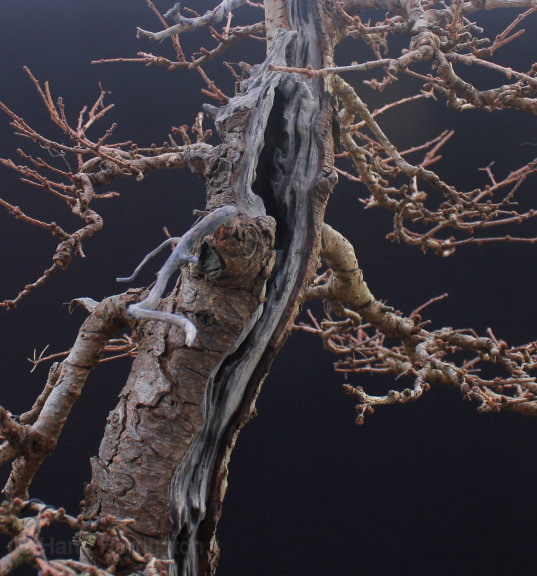 Detail of the Larch deadwood.
The deadwood was brushed with burnt paper ash using a damp brush before being lime-sulphured. This gave the wood a smoky-grey-white colour rather than the creamy-white from using lime-sulphur alone.
Detail of the base of the Larch deadwood.
The base of the trunk where the hollow was also embellished, thinning the edges of the wood and adding grain and texture. The hollow itself was deepened and extended left and right so that the walls of the hollow could not be seen. It was then stained with black water-based paint to create better visual depth and contrast with the lime-sulphured deadwood.
European Larch bonsai (Larix decidua), after re-styling January 2016
Height 27"/69cm.
With the first application of ash and lime-sulphur dry, it was easier to see areas of the deadwood that required further refinement and/or removal of tool marks. The deadwood was then coloured a second time.
The styling was then completed by wiring and positioning the remainder of the branches.
Notice that the movement of the tree (as defined in this case by the direction of the apex) is towards the right. As the first branch emerges on the left side of the trunk (the opposing side), it is raked downwards to visually weaken it in comparison to the first right branch. Therefore the first right branch sets the tone of the design as well as complimenting the apex and the direction of movement.
Larch Bonsai Carving and Styling Page>>> 1 2