Page 1 of 11:
This article contains a selection of updates and images I've posted on Social Media (Google+ and Facebook) over Spring 2016; from March 21st 2016 to June 21st 2016.
While the Winter of 2016 rarely saw the freezing temperatures normally experienced in the UK, the cool weather continued into Spring and as a result, most trees didn't come into leaf until late April, 6 weeks later than in 2015. However, the late start resulted in an explosion of growth through May and June! One very noticeable effect of the late start was the leaf-size of most of my bonsai; with the first flush of growth occurring at much higher light levels than in 2015, the leaf-size was naturally much smaller.
Late March 2016: The central section of a Crab Apple bonsai I was commissioned to work on in late March 2016. For more images and details of this project, please see Crab Apple Bonsai Carving and Styling
Late March 2016: I was completely blown away by this birthday present in late March, a Skull pot by potter Ken To!
Late March 2016: A tiny Hokido Elm bonsai, belonging to Alex Mai Bonsai, being prepared for a new pot in late March.
Late March 2016: Detail of the hand-painted Tani Ranzan pot Alex and I repotted the Hokido Elm into, bear in mind that the pot was only approx 4cm wide!
Late March 2016: 6 cm tall Hokido Elm bonsai planted into the painted Tani Ranzan pot with student Alex Mai Bonsai. This has to be the best mame I could remember working on.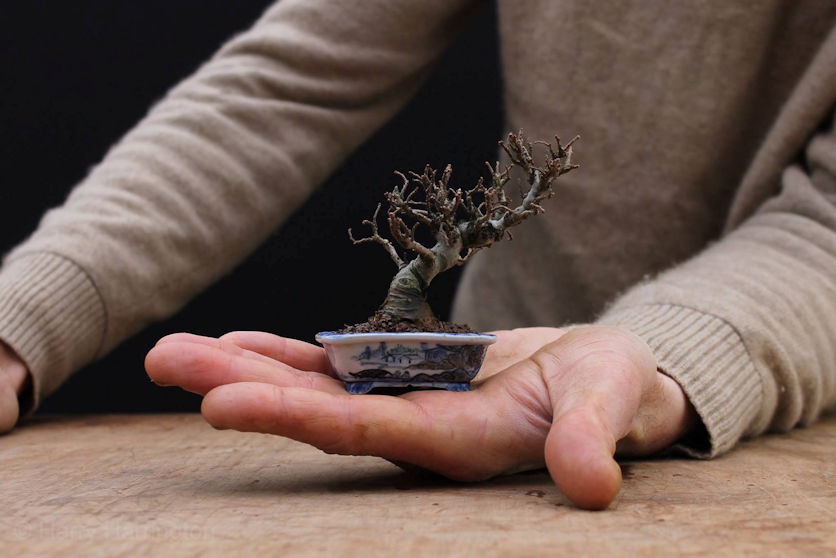 Late March 2016: 6 cm tall Hokido Elm bonsai in a painted Tani Ranzan pot with hand for scale
Late March 2016: A cold March evening was spent preparing this massive Pinus sylvestris/ Scots Pine yamadori for a workshop held by bonsai master Taiga Urushibata at the Spirit of Shohin Show in early April.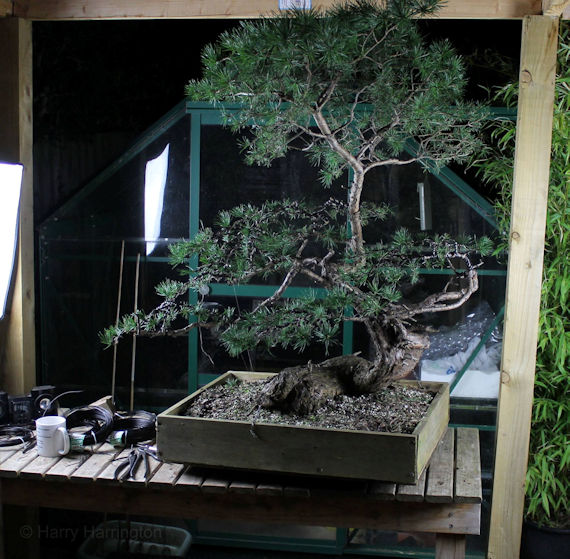 Late March 2016: The fully prepped Scots Pine ready for styling.
Bonsai Spring Images 2016: Page>>> 1 2 3 4 5 6 7 8 9 10 11