Page 1 of 2:
Guest Article by Samuel Brierley of New Zealand
My Slice of Paradise
Last April I was driving past what I assumed to be reserve of native trees on the outskirts Whakatane; and out of the corner of my eye I glimpsed, very briefly, what I thought was a deciduous leaf showing Autumn colour, in the middle of a NZ native trees?!
It didn't seem right in my head to me, so I went back for another look. I looked over the road side fence and saw a Hawthorn tree in full yellow autumn colour in amongst this native bush, I looked further up the hill line and every 10-20m or so I, could spot the silky grey trunks and yellow leaf of Hawthorn dotted all through the bush - Oh my Gosh!!! I dream about this type of find. I had always admired Hawthorn as bonsai. Harry Harringtons exquisite work with Hawthorns was what originally attracted me to Bonsai4Me.com, those beautiful relaxed realistic looking trees. Eight to nine years ago when I first saw them I thought to myself, "That's the sort of bonsai I want to create!"
Up till this stage I had never really touched any Hawthorns, had only heard whispers, an urban legend of a mystical valley down the South Island where there were 100's of wild Yamadori Hawthorns, something I could only dream about getting to someday; and if I was very lucky to maybe get just one. But now to sight these trees and no more than 3-4 minutes' drive from my doorstep!
I found out then after closer inspection that I was actually on someone's drive way, on private land. Once I found the owner and I asked him very nicely if I can use his land as access to these "pest" trees, he was delighted I would take some of the "thorned devil" trees off his property and the surrounding native reserve. I handed over a box of Heinekens and I was in there! Stoked Happy Days!!!!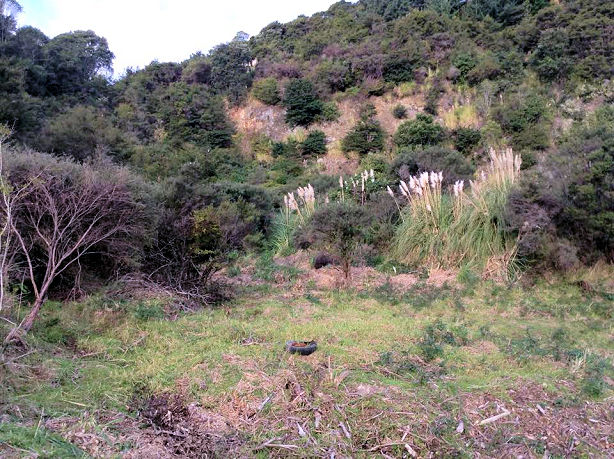 After consulting my mate Harry who is very knowledgeable with lifting Hawthorn Yamadori, he gave me a few tips on extracting them. One big tip was to go in in Autumn and reduce all the braches down to the trunk wanted for the bonsai design; by doing this then the tree will present you with many, MANY more activated buds when it comes to lifting; also the tree will take on extra energy reserves from its fully operational root system at this time.
So I was into it. Every spare bit of time I could find during my working week I would walk into the bush with my backpack with my secateurs, side-cutters, wound sealant, a drink and my trusty handsaw in hand.
I started preparing trees for lifting in the coming Winter's end. The number one thing I was doing was selecting the best trunks I could find, those with taper, movement and primary branches already in place if it was possible. It was a very good lesson in making quick decisive design decisions on prospective trunks!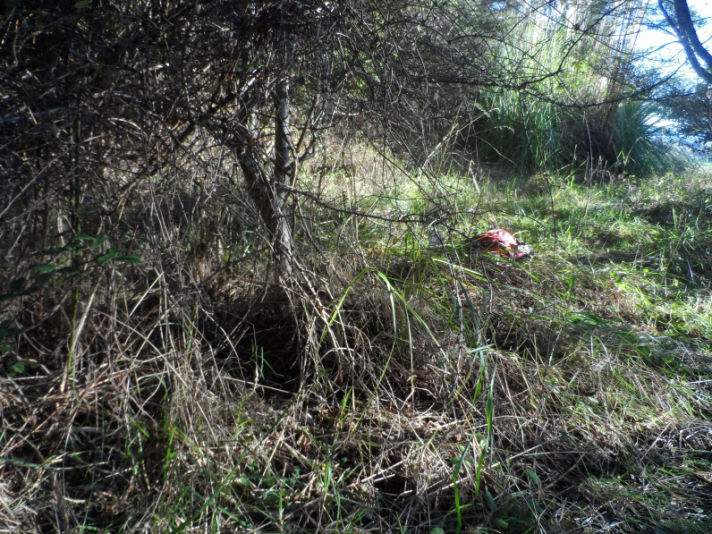 Anybody who had dealt with Hawthorn yamadori would know they are very unforgiving with no quarter given. I spent many an evening pulling bits of thorn and timber out of my hands; even with wearing gardener's gloves, those thorns go straight thru!
One afternoon I asked my 8 year old son Dominic if he would like to go up for a walk around the trees, and as it turned out he loved it and now goes into the bush tree hunting with me whenever he is able to. With his own pair of secateurs on his belt, he has learnt to spot a Hawthorn in dense bush at great distances (Stoked!). Needless to say it brings me a lot of joy to spend time with my son doing such things that I'm passionate about! Dominic and I have prepared a good dozen trees for lifting.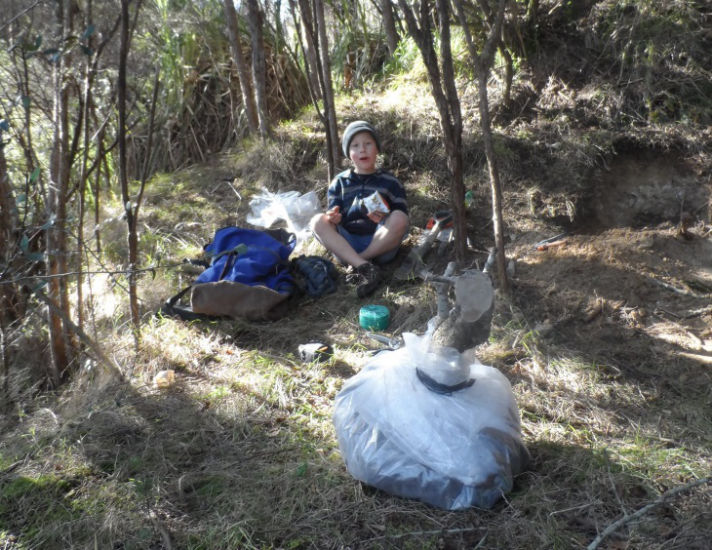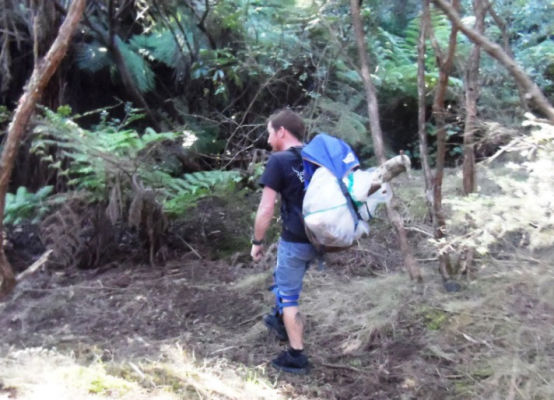 Now it is on the other side of winter and we have started extracting some of our yamadori treasures. So far we have got 7 trees out and have another 5 or 6 left on the hill to get out this season. It has been a learning curve in itself; I've always been one to dig my own trees up but for some of these trees it meant that I had to then walk another half hour out of the bush with them strapped to my back. This was another area that Harry was able to make a big difference for me! He advised me to almost totally bare root the tree on sight; then if possible find some local moss or take some in with me; wet it and surround the root ball with the moss. As it happened there is a natural spring stream running down the hill where I am able to harvest large amounts of a sponge like moss. This way I wouldn't be carrying a ton of peat and clay soil out with me, it has made the job A WHOLE LOT easier!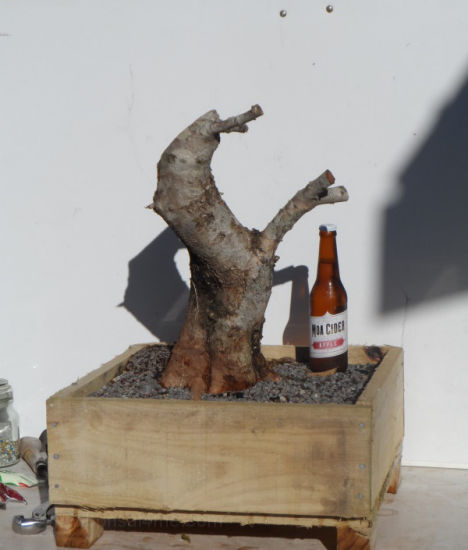 One of the best finds that was lifted in August. Dominic and I called in help from Craig Walker and Steve Oliver, both great bonsai artists and good friends from the Ask-Your-Tree crew.
I am very excited about this tree; I'm planning on using all the existing primaries, which will help preserve it as a very wild yamadori tree. A look that may have technical "faults" pointed out in it aesthetically but naturally occurring wild "quirks" that I want the tree to hold on to and be part of what the yamadori tree is defined by. It has got some fantastic craggy old bark which I didn't want to disturb whilst lifting it, and this was where Craig and Steve helped to make the day's activities a lot more gentle!
Page>>> 1 2