Page 2 of 2:
Laying out the branches of a Juniper bonsai
Always start with the lowest or first branch as this dictates the shape and style of the foliage mass as a whole. First the primary branch was wired and placed, followed by its secondary branches and then their tertiary branches, before beginning to work on the next primary branch up on the trunk. This process continues, always working upwards towards the crown until the entire foliage mass has been laid out.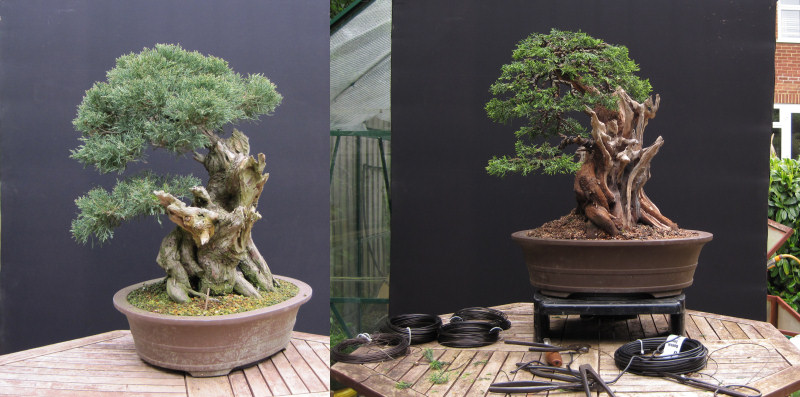 Chinese Juniper bonsai foliage being laid-out by the author as part of the styling of this tree during 2012.
The Chinese Juniper after laying out all the foliage, as seen from above. From this view it is possible to see the 'workings' of the foliage mass.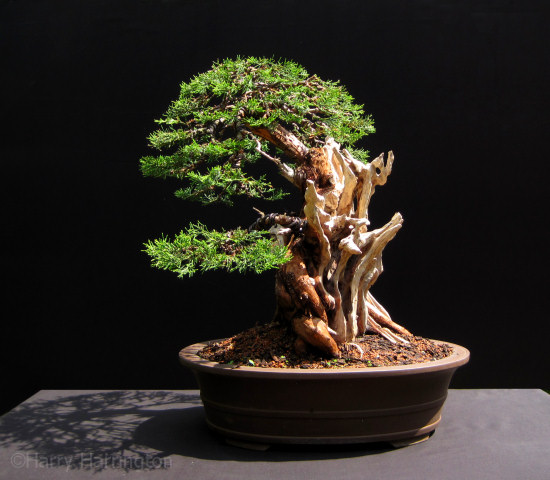 When seen from the front, all of the various elements of foliage mass come together to make a whole.
This part of designing and styling a Juniper is a time-consuming process (the foliage mass of the Chinese Juniper above took approximately 8 hours to arrange) but is also essential if the bonsai is to have distinct shape and form and not simply be a shapeless mass of foliage.
And the results can be quite simply stunning.