Page 1 of 4:
A selection of my bonsai images taken during the Spring of 2011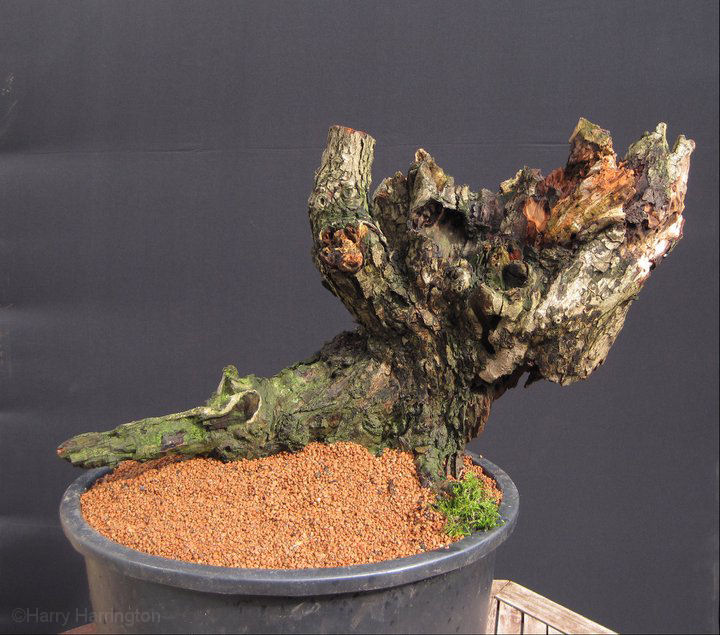 This is a big Hawthorn dug in March from an old hedgerow due to be dug up to make way for a new road. The tree is 24" wide (the black tub it's planted in measures 17" in diameter) and extremely old. Its exact age will never be known but it has deteriorated enough for the main trunk to have rotted away.........the live trunk (in the middle of the stump) is around 3" diameter and had flowering spurs ready to open (before I chopped it).
The roots, what there were of them, were in a terrible state, with most of them dead and rotten. At the time of collecting I wasn't sure whether the tree would survive but over the following three months it has slowly come to life and now has half a dozen shoots of over 30cm in length, an excellent indication that new root growth is occurring under the soil surface.
This Tamarix bonsai started out life in Feb 2004 as a 4"/10cm diameter cutting with no branches that I rooted in water. The image left shows the cutting just 3 months later. Right, is the same cutting 3 years later in 2007 after a lot of carving! I then sold the tree to make space in my garden and I lost track of it until this Spring
During very early Spring this year I was teaching a student and discovered that he had purchased the tree a few years earlier and I promptly bought it back off him.
Though the Tamarix had grown well in the previous 4 years, its appearance had deteriorated so (right) I recarved, pruned and lime-sulphuring it again. I also repotted it though it will go into a more suitable pot at some point in the future.
By late April the tree rewarded me with flowers
Close-up of the Tamarix flower