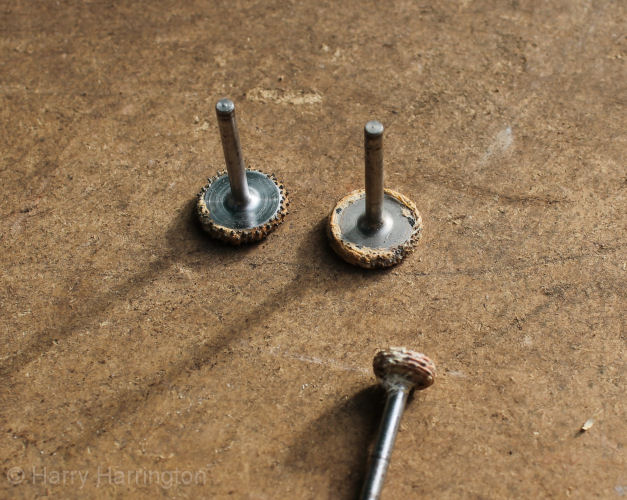 A selection of carving bits clogged up with sappy wood after use. This type of 'spiked' bit can be very difficult to clean.
Wood-carving bits, used in Dremel and Makita carving machines, are notorious for clogging-up with sap and wood-chips after relatively short periods of use. Although they are still capable of carving once they have become clogged up, their efficiency is reduced.
Unfortunately, cleaning the bits can be very difficult, in particular the sap that becomes very hot during use seems to weld itself to the metal bit!
In the past I have used proprietary tool-cleaning products to clean my carving bits, however these can prove to be expensive (around GBP£7-£8 for 100ml bottles).
In search of an alternative, I knew I would need to find an easily obtainable fluid that was not only capable of breaking down hardened sap and resin as well as wood chips, but safe enough to use at home and in the garden, and would not leave a residue on my tools that could potentially harm my bonsai.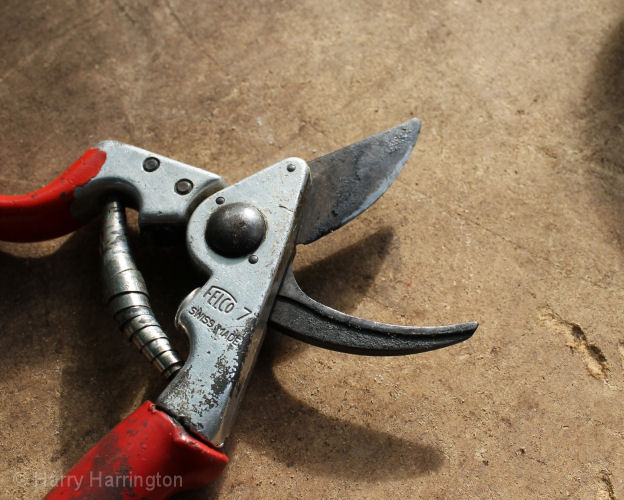 My Felco secateurs, covered in a mixture of blackened sap and resin from pruning a large garden-growing Scots Pine.
Garden and bonsai tools are also difficult to clean quickly and efficiently. "Domestic" products such has HP Sauce and Coca-Cola can be used to help clean tools. A pair of secateurs left overnight in a jar full of Coca-Cola will be cleaner in the morning, after some wire-brushing. However………standing your tools in a jar full of fizzy-drink for hours isn't particularly efficient……..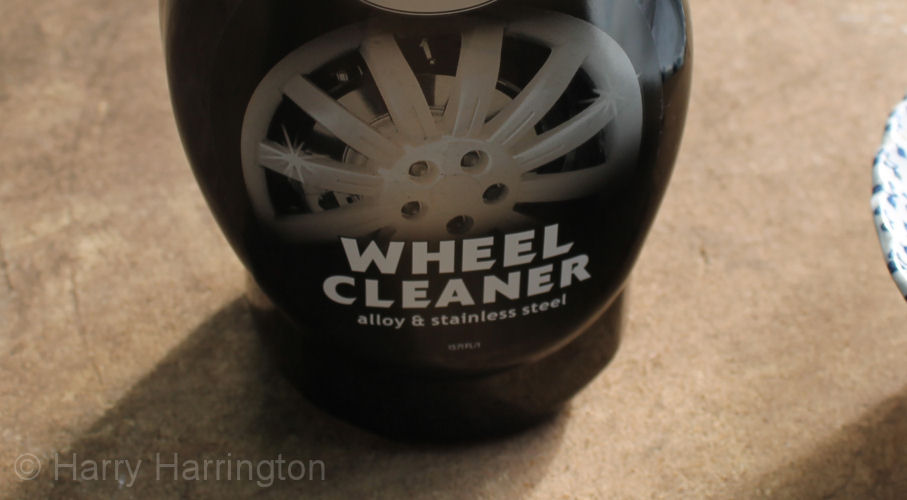 Alloy-wheel cleaner (of any brand), this spray-bottle cost just GBP£2 (US$3) for 750ml.
It was only while I was spraying the alloy wheels on my car that it occurred to me to try using Alloy-Wheel Cleaner. Such cleaning products are sprayed onto alloy car wheels, left for 5mins and then simply rinsed away with a jet of water leaving a clean and shiny alloy wheel.
Heavily spiked 4″/10cm diameter wood-carving disc after spraying with alloy-wheel cleaner. Note that the disc has a plastic coated surface.
I first tested out the alloy wheel-cleaner on a heavily spiked, 4″/10cm diameter wood-carving disc that I use in my angle-grinder. Although the spikes, or teeth, on the disc are excellent for wood-carving, they quickly become clogged up with debris and sap which greatly reduces their effectiveness.
I sprayed the wheel-cleaner onto the disc, left it for 30 minutes and then jetted it off with water from a hose pipe; the results can be seen above. Other than a small area of congealed resin/sap left on the inner rim, the plastic-coated surface of the disc was incredibly clean!!
The blades of my secateurs sprayed with alloy-wheel cleaner.
Our Online Shop is owned and run by bonsai artist and author Harry Harrington..
For bonsai supplies, soils, books, tools and bonsai for sale!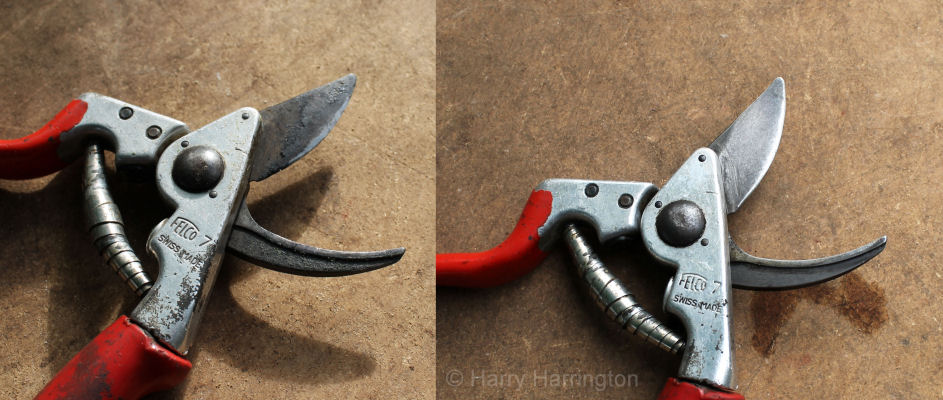 The secateurs before and after cleaning with alloy wheel cleaner for 30 mins.
I then sprayed my heavily-encrusted secateurs with alloy wheel cleaner and left them for just 30 mins before jetting them off with water, the results can be seen above! The pine resin had been cut away from the blades without any effort.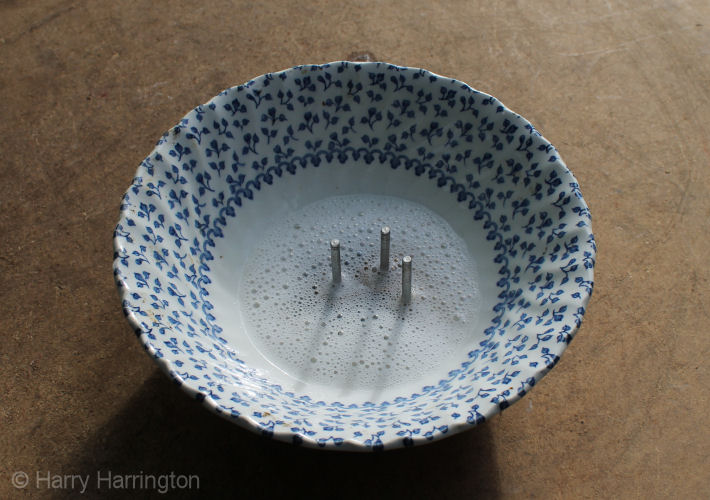 Standing my wood-carving bits in a dish of alloy-wheel cleaner.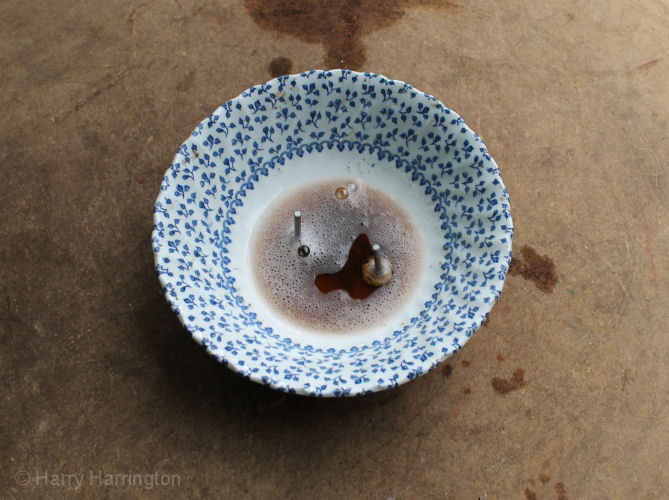 After just 20 minutes, the sap, resin and wood that had collected on the carving bits had come away, dirtying the wheel-cleaner solution.
The wood-carving bits after rinsing with a jet of water.
Finally, I stood my spiked carving bits in the cleaner for 20 minutes, rinsed them with a jet of water and they were instantly clean and ready for use.
Such a cheap and easily available product has now got to be a useful addition to the toolkits of all wood-carvers, gardeners and bonsai enthusiasts!